Acclaimed Chef Thomas Keller Joins
 Hestan® Culinary As Brand Ambassador
Acclaimed Chef Thomas Keller Joins
 Hestan® Culinary As Brand Ambassador
After more than 40 years helming America's most acclaimed restaurants, Chef Thomas Keller knows his cookware – down to the angle of the handle. From the groundbreaking resilience of NanoBond Molecular Titanium to the elegant performance of CopperBond Induction Copper and the workhorse of ProBond Clad Stainless, Chef Keller has come to rely on Hestan Culinary's durability and functionality.
"Everything that Hestan introduces is designed with purpose and unmatched quality, including the cookware, which I have found to be the most innovative, responsive, durable, and beautiful line for both professional and home cooks."
- CHEF THOMAS KELLER
---
Each collection of Hestan cookware delivers revolutionary culinary performance with innovative design and remarkable materials, backed by 14 global patents. You can't fake quality. That's why every product is meticulously handcrafted in Italy in our own factory to meet the highest standards of fit and finish. Hestan cookware not only cooks beautifully - but will still look beautiful for years to come.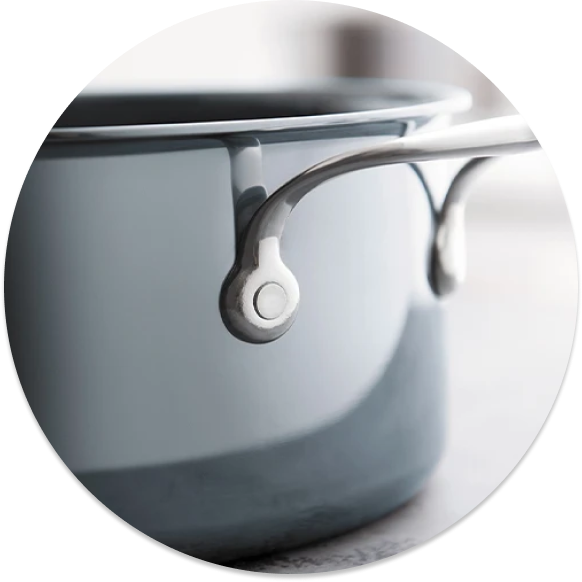 Sealed Rims
Our rims are sealed and encapsulated in stainless steel to prevent exposed aluminum, delamination or separation. This makes Hestan cookware 100% dishwasher safe and built to last a lifetime.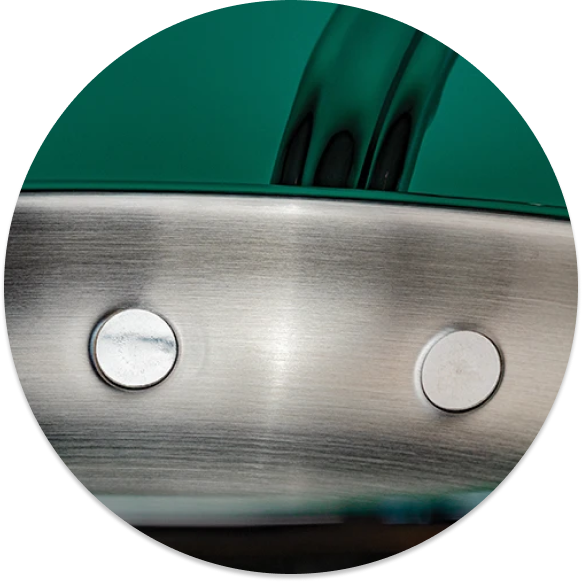 Flush Rivets
Sometimes the smallest innovation can make the biggest difference, like our chef-inspired flush rivets. They make Hestan cookware extremely easy to clean by preventing food build up, and stacking is a perfect fit for easy storage.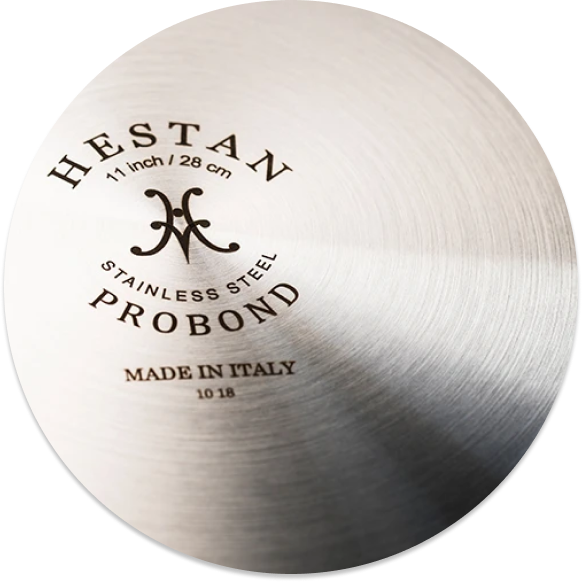 ProCore Aluminum
Our exclusive triple-bonded stainless steel base delivers 35% greater heat conductivity for faster, more consistent heating, plus faster recovery time. So you can stay in control of the temperature and timing.
What makes each collection unique?
Titanium strength, lasting beauty
Revolutionary cooking surface is 4X stronger and 5X the lifespan of typical stainless
Scratch and stain resistant, maintaining beauty for a lifetime - guaranteed
Delivers unrivaled cooking performance with 35% greater heat conductivity and safely handles temperatures up to 1050º F
Stunning beauty, brilliant conductivity.
Pure copper core protected by 5-layer construction gives you the incomparable heat conduction and control of copper
Wraparound magnetic stainless steel base is phenomenally-suited for induction
Beautiful two-toned copper and polished steel exterior complements its high performance with high style
Optimized for performance.
Tri-ply body and responsive pure aluminum core for maximum durability and fast, even heat distribution.
Optimized for all cooking surfaces, including induction
Unique two-toned brushed steel exterior finish with beautiful polished steel band
---
Each line of cookware combines high-performance and high-durable materials to deliver cookware that works beautifully and looks stunning for years to come.
ABOUT
THOMAS KELLER
Thomas Keller's name is synonymous with quality and high standards. The chef and proprietor has established a collection of restaurants that sets a new paradigm within the hospitality profession, including The French Laundry, in Napa Valley, and Per Se, in New York, among others.

He is the first and only American-born chef to hold multiple three-star ratings from the prestigious Michelin Guide, as well as the first American male chef to be designated a Chevalier of The French Legion of Honor, the highest decoration in France.

Chef Keller has earned countless accolades, including The Culinary Institute of America's "Chef of the Year" Award and the James Beard Foundation's "Outstanding Chef" and "Outstanding Restaurateur" Awards